---
Get a quote now
Autodesk Fusion 360 Training
Description:
In this course a student will get started with product design in Autodesk Fusion 360. During the course you will learn how to sculpt your idea, then move to parts and assembly modelling, and, as a final steps, create drawings, renderings and prepare for manufacturing on CNC machine or 3D printer.
Fusion 360 is a cloud-based CAD/CAM tool for collaborative product development. Fusion 360 enables exploration and iteration on product ideas and collaboration within distributed product development team. Most importantly, Autodesk Fusion 360 combines organic shapes modelling, mechanical design and manufacturing in one comprehensive package. We encourage you to learn more about Autodesk Fusion 360 at the official website as well as download the product. Students, educators, enthusiasts and startups (no commercial product available yet) are entitled for a free licence.
Duration: 4 Days
Prerequisites:
A working knowledge of basic design/drafting procedures and terminology.
A working knowledge of your operating system.
An active subscription license of Autodesk Fusion 360
Internet connection with reasonable speed to upload and download 3d files
Objectives:
Navigate through the user interface of Autodesk Fusion 360
Understand design process in Autodesk Fusion 360
• Create conceptual design and organic forms using T-Splines
Design mechanical parts using solid modeling tools
Create mechanical assemblies and motion studies
Collaborate with other members of the project and manage the data in the cloud
Create drawings and renderings
Use CAM module to setup 2.5-axis milling of a part
HRDF Claimable: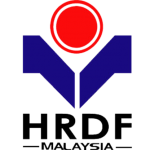 As a Human Resources Development Fund (HRDF) registered training center, our courses/ training are HRDF claimable.
Authorized Autodesk Training Center:
Trainees / Students completed training will receive Certificate of Completion from Autodesk.